Master Program in Motion Graphic
Master Program in Motion Graphic
This program focuses on creating awesome Motion Graphics for Movies, Web series, TV serials, Commercials, Social Media, Broadcasting, and many more. These videos are vital for brand promotion, awareness, and revenue generation.
Motion Graphics makes you able to tell a story through a visual medium. As per the project and genre, an appropriate animation style is worked upon. It starts with a storyboard and progresses ahead with various 2D and 3D software.
What will you learn in this program?
Complete production pipeline of Motion Graphics. 

Pipeline of multiple 2D and 3D softwares to create desired output. 

Understanding of marketing psychology. 

Creating videos for various mediums including feature film, OTT, web, games, social media, and many others. 

File formats and technical parameters of the broadcasting system (editing, sizing, coloring, and more).

Typography and many other styles of text animation. 

Use of leading industry standard plugins for a faster production pipeline.
Applicable jobs after successful completion of the Expert Program in Graphic, Broadcast and Social Media Design:
Motion Graphics Artist 

Broadcast Designer Artist
Module 1 ( 6 Months / 4 Software's )
Softwares

Hours

Pre-Production (Story development and execution)
60 hrs.
Photography (Capturing the moments)
05 hrs.
Photoshop (Photo editing and compositing)
20 hrs.
3ds Max (Powerful 3D software for gaming, architecture and assets)
125 hrs.
Premiere Pro (Video editing and effects)
10 hrs.
After Effects (Visual effects, motion graphics and compositing)
20 hrs.
 
Total 
240 hrs.
Module 2 ( 7 Months / 7 Software's )
Softwares

Hours

After Effects (Visual effects, motion graphics and compositing)
30 hrs.
Maya (Powerful 3D software for movies, series and visual effects)
80 hrs.
Nuke (Powerful node base compositing software for movies and series)
60 hrs.
PF Track (Node base 3D camera tracking software)
20 hrs.
Houdini (Dynamic simulation tools to create visual effects )
70 hrs.
3DEqualizer (Powerful matchmoving software)
20 hrs.
Katana (Powerful tool for look development and lighting)
20 hrs.
 
Total 
300 hrs.
Module 3 ( 9 Months / 4 Software's )
Softwares

Hours

Maya MASH (Procedural technique to create visual effects)
40 hrs.
Ilustrator (Vector graphics and designing)
16 hrs.
Element 3D (Advanced real-time render engine to make 3D objects)
20 hrs.
Trapcode Suite (Particle tool to create visual effects used for After Effects)
15 hrs.
Look Development Plugins (Final color and effects enhancement)
15 hrs.
Cinema 4D (Powerful 3D motion graphics software)
110 hrs.
 
Total 
216 hrs.
You need to submit your demoreel / portfolio to be eligible to receive the Frameboxx certificate. 
During these 24 months, you will be continuously in touch with your mentors for enhancement of your submission. The final grading will be calculated on the basis of your overall performance during the tenure of your course and quality of demoreel / portfolio. 
At the end of each year, you will be required to submit a project that has been created using all the skills learnt throughout the year. This will be followed by a practical exam that will test your skills.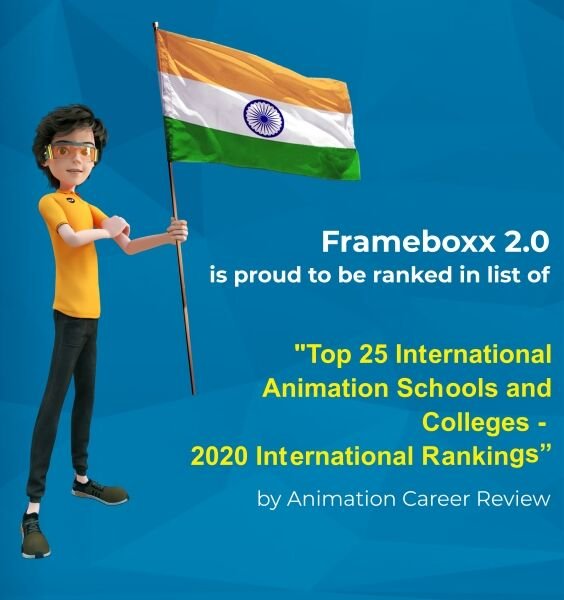 Ranked in "Top 25 International Animation Schools and Colleges – 2020 International Rankings" by Animation Career Review
Dedicated online and in-class training platform for Students
Affiliation with well known Universities to provide Animation Degree course
Student loan facility with 0% EMI loan
Current industry standard and career focused course curriculum
Studio Internship 
Awarded the 'Centre of Excellence' by MESC (Media & Entertainment Skills Council)
National training studio that is owned and run by Industry professionals
Spearheaded by entrepreneurs with 3 decades of expertise
Regular webinars and live sessions by industry experts
100% Placement assistance
Lectures and guest sessions from Industry experts 
Regular workshops, seminars and competitions
Project and Portfolio creation 
Collaborative learning approach 
Personalized attention to students
Unlimited practice hours 
Regular Studio Visits