Graphic, Broadcast & Social Media Design
Expert Program –  Graphic, Broadcast & Social Media Design
This program focuses on teaching Graphic Designing for Broadcast mediums (Movies, Web series, Commercials, Documentaries, TV Serials, and others) and Social Media Channels (Facebook, WhatsApp, Instagram, Pinterest, Twitter, LinkedIn, Snapchat, YouTube, and more).
The Graphic Designing industry is massive and growing continuously. It is used in a wide array of verticals of the Media & Entertainment industries. From print media to digital, it is seen in all mediums of marketing and publications.
What will you learn in this program?
Drawing & Perspective. 

Design Principles. 

Printing parameters.

Creative Visualization.

Aesthetics Skills. 

Color Theory. 

Layout Design. 

2D and 3D Motion Graphics.
Applicable jobs after successful completion of the Expert Program in Graphic, Broadcast and Social Media Design:
Graphic Designer 

Illustrator 

Motion Graphics Artist 

Website Designer 

Concept Artist 

App Interface Designer
Module 1 ( 4 Months / 6 Software's )
Softwares / Skills

Hours

Social Media Platforms
01 hrs.
Drawing
10 hrs.
Design Theory
05 hrs.
Print Theory
03 hrs.
Digital Photography with Lightroom
10 hrs.
Photoshop with Spark AR (Augmented Reality platform to create AR effects for mobile cameras)
23 hrs.
Illustrator (Vector graphics and designing)
20 hrs.
InDesign (Digital multi page layouting)
10 hrs.
CorelDRAW (Vector graphics and designing)
20 hrs.
Web Design
04 hrs.
 
Total 
106 hrs.
Module 2 ( 5 Months / 4 Software's )
Softwares / Skills

Hours

Animation (12 Principle)
09 hrs.
Animate (2D Animation Software)
30 hrs.
Premiere Pro (Video editing and effects)
20 hrs.
After Effects (Visual effects, motion graphics and compositing)
33 hrs.
Cinema 4D (Powerful 3D motion graphics software)
28 hrs.
Facebook Ads & Messenger Chatbot Marketing
02 hrs.
Instagram Marketing
02 hrs.
YouTube Marketing
02 hrs.
Pinterest Marketing
02 hrs.
LinkedIn Marketing
02 hrs.
Quora Marketing
01 hrs.
Twitter Marketing
01 hrs.
 
Total 
132 hrs.
You need to submit your demoreel / portfolio to be eligible to receive the Frameboxx certificate. 
During these 10 months, you will be continuously in touch with your mentors for enhancement of your submission. The final grading will be calculated on the basis of your overall performance during the tenure of your course and quality of demoreel / portfolio. 
At the end of each year, you will be required to submit a project that has been created using all the skills learnt throughout the year. This will be followed by a practical exam that will test your skills.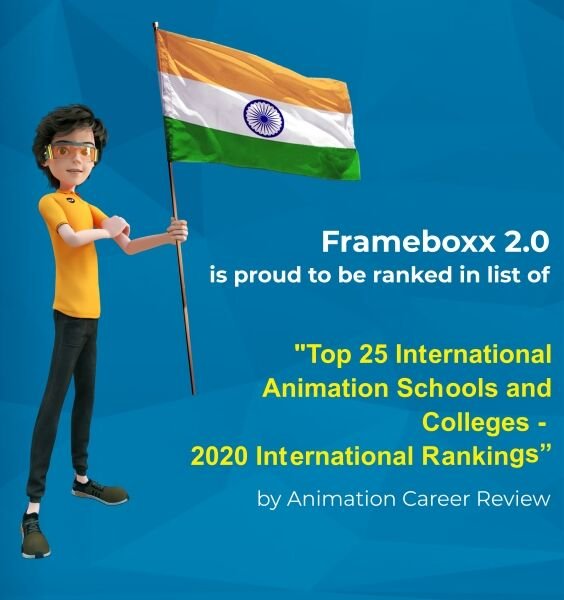 Ranked in "Top 25 International Animation Schools and Colleges – 2020 International Rankings" by Animation Career Review
Dedicated online and in-class training platform for Students
Affiliation with well known Universities to provide Animation Degree course
Student loan facility with 0% EMI loan
Current industry standard and career focused course curriculum
Studio Internship 
Awarded the 'Centre of Excellence' by MESC (Media & Entertainment Skills Council)
National training studio that is owned and run by Industry professionals
Spearheaded by entrepreneurs with 3 decades of expertise
Regular webinars and live sessions by industry experts
100% Placement assistance
Lectures and guest sessions from Industry experts 
Regular workshops, seminars and competitions
Project and Portfolio creation 
Collaborative learning approach 
Personalized attention to students
Unlimited practice hours 
Regular Studio Visits