Expert Program in Architecture Visualization
Expert Program in Architecture Visualization
This program focuses on executing 3D Architectural views from various perspectives and lighting conditions. In the end, it enables you to create walkthroughs as per client requirements. It is a challenging process, where you develop new ideas to accomplish every project.
The program is designed to help all interior and exterior designers, architectural students, and 3D visualizers sharpen their skills and render photo-realistic views. The complete design process will enable you to create a structure, which remains true to all creative, technical, and aesthetic aspects.
What will you learn in this program?
Complete website design.
Critical functions to handle all online processes.
Graphics creation as per client requirement.
UI (User Interface) and UX (User Experience).
Required back-end coding for the smooth functioning of website.
Applicable jobs after successful completion of the Expert Program in Graphic, Broadcast and Social Media Design:
3D Architectural Visualizer
Modeling
Texturing
Lighting
Interior Designer
Exterior Designer
Module 1 ( 4 Months / 4 Software's )
Softwares

Hours

Photoshop (Photo editing and compositing)
20 hrs.
Foundation AutoCAD Designer
06 hrs.
+
Google Sketchup + V-Ray (3D Designing & rendering)
18 hrs.
 
Total 
44 hrs.
Module 2 ( 2 Months / 6 Software's )
Softwares

Hours

+
3ds Max + V-Ray (Powerful 3D software for gaming, architecture, assets
and Rendering)
50 hrs.
Corona Render (Renderer for architectural visualization)
05 hrs.
Lumion (3D Rendering software)
06 hrs.
After Effects (Visual effects, motion graphics and compositing)
09 hrs.
Premiere Pro (Video editing and effects)
06 hrs.
 
Total 
76 hrs.
You need to submit your demoreel / portfolio to be eligible to receive the Frameboxx certificate. 
During these 7 months, you will be continuously in touch with your mentors for enhancement of your submission. The final grading will be calculated on the basis of your overall performance during the tenure of your course and quality of demoreel / portfolio. 
At the end of each year, you will be required to submit a project that has been created using all the skills learnt throughout the year. This will be followed by a practical exam that will test your skills.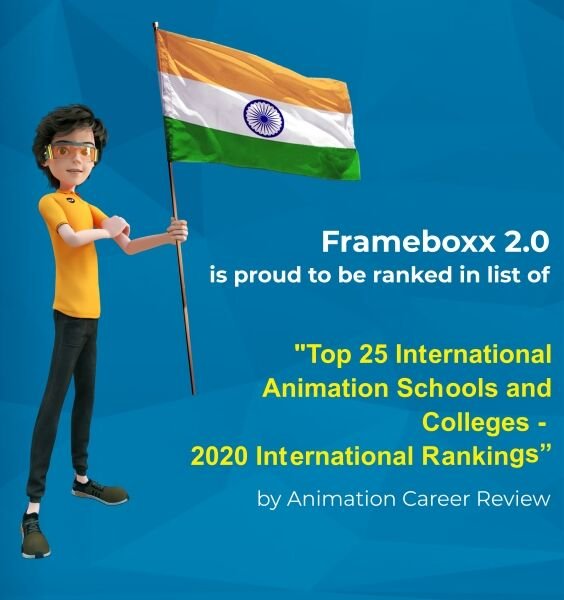 Ranked in "Top 25 International Animation Schools and Colleges – 2020 International Rankings" by Animation Career Review
Dedicated online and in-class training platform for Students
Affiliation with well known Universities to provide Animation Degree course
Student loan facility with 0% EMI loan
Current industry standard and career focused course curriculum
Studio Internship 
Awarded the 'Centre of Excellence' by MESC (Media & Entertainment Skills Council)
National training studio that is owned and run by Industry professionals
Spearheaded by entrepreneurs with 3 decades of expertise
Regular webinars and live sessions by industry experts
100% Placement assistance
Lectures and guest sessions from Industry experts 
Regular workshops, seminars and competitions
Project and Portfolio creation 
Collaborative learning approach 
Personalized attention to students
Unlimited practice hours 
Regular Studio Visits