Top Rated Institute for 3D Animation & VFX Visual Effects Courses in Indore
3D Animation & VFX Visual Effects Course
This program focuses on providing the required knowledge to start your career in the spectacular Media & Entertainment Industry. It works as a stepping stone to your professional journey.
Nowadays, Animation and VFX are an integral part of Movies, Web series, TVCs, and many other broadcasting formats. They help to narrate the storytelling in an enhanced way. It had become a must tool of every Director to properly execute their conceived ideas into reality.
What will you learn in this program?
All necessary things to get the jump start in the industry include 2D and 3D Animation, VFX, Photography, and Editing.
Holistic knowledge of the industry and workaround.
In the 2nd module, you will decide your career goal: 3D or VFX. You will select one module as per your passion and one-to-one discussion with your trainers.
Softwares

Hours

Pre-Production
60 hrs.
Photography
05 hrs.
Photoshop
20 hrs.
3ds Max
125 hrs.
Premiere Pro
10 hrs.
After Effects
20 hrs.
 
Total 
240 hrs.
Module - 2 (Specialize in 3D)
Software's

Hours

Substance Designer
20 hrs.
Substance Painter
20 hrs.
Maya
150 hrs.
Houdini
50 hrs.
Mari
20 hrs.
Katana
20 hrs.
Nuke
20 hrs.
 
Total 
300 hrs.
Moudule - 2 (Specialize in VFX)
Softwares

Hours

After Effects
20 hrs.
Maya
20 hrs.
Nuke
150 hrs.
PF Track
50 hrs.
Houdini
20 hrs.
3DEqualizer
20 hrs.
Katana
20 hrs.
 
Total 
300 hrs.
You need to submit your demoreel / portfolio to be eligible to receive the Frameboxx certificate. 
During this __ months, you will be continuously in touch with your mentors for enhancement of your submission. The final grading will be calculated on the basis of your overall performance during the tenure of your course and quality of demoreel / portfolio. 
At the end, of the Course, you will be required to submit a project that has been created using all the skills learned throughout the year. This will be followed by a practical exam that will test your skills.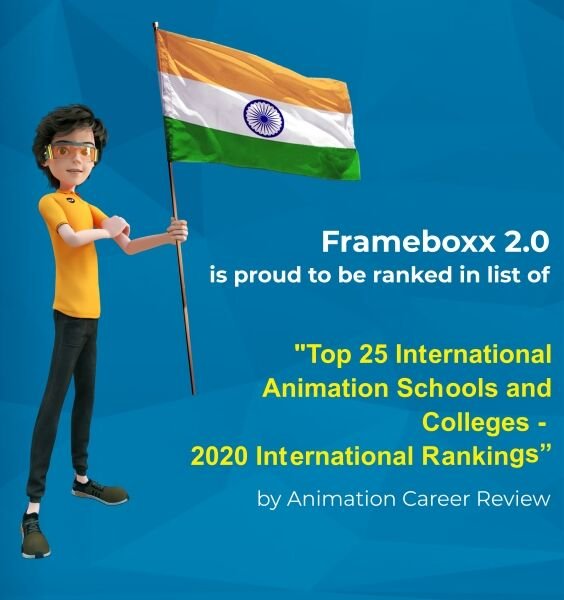 Ranked in "Top 25 International Animation Schools and Colleges – 2020 International Rankings" by Animation Career Review
Dedicated online and in-class training platform for Students
Affiliation with well known Universities to provide Animation Degree course
Student loan facility with 0% EMI loan
Current industry standard and career focused course curriculum
Studio Internship 
Awarded the 'Centre of Excellence' by MESC (Media & Entertainment Skills Council)
National training studio that is owned and run by Industry professionals
Spearheaded by entrepreneurs with 3 decades of expertise
Regular webinars and live sessions by industry experts
100% Placement assistance
Lectures and guest sessions from Industry experts 
Regular workshops, seminars and competitions
Project and Portfolio creation 
Collaborative learning approach 
Personalized attention to students
Unlimited practice hours 
Regular Studio Visits